COVID-19 Assessment form – Halcyon
Service Codes
The Halcyon COVID-19 form is available via PMS forms – look for Halcyon Portal.
The following service codes must be installed to generate invoices in the PMS:
| | |
| --- | --- |
| Code | Assessment Type |
| COVIDS | Simple Assessment |
| COVIDF | Full Assessment |
| COVIDV | Virtual Assessment |
| COVIDC | Car or Dedicated Room |
Halcyon COVID-19 Assessment form
Go to the patient and open the Halcyon Portal
Click the link next to the COVID-19 form name* – New Assessment/Notification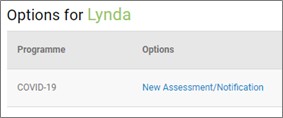 Select the appropriate provider on the Provider tab if your name has not pre-populated

Complete the Clinical Assessment and Identification Details The content of these tabs can change from time to time, as swabbing guidelines and criteria change.
Navigate through the form by clicking on the tabs or using the Back/Next buttons.
Some details will be pulled from the PMS, please check with the patient that the details are correct.
Click Submit Claim when the form has been completed.
Important Notes
*To part fill a form and return to it later, click Park Form. When returning to view the patient, the form link will say Finish an assessment.
Only submit the form when complete; submitted claims can't be edited.
Submitting the form will save a summary to the patient inbox
Reports
At the top of the page – click Reports to view the status of claims or a list of parked forms.