Mental Health
Forms

Referrals and claims are now in separate forms.
Referrals
Complete a referral form to refer a patient to:
the PHO to select a provider
the PHO to refer to a preferred provider (as specified in the referral form)
a credentialed Mental Health Nurse working in the practice
The referral form requires the provider to complete a PHQ9 questionnaire with the patient.
Referrals are submitted and accepted requiring review until triaged by the PHO.
If the provider wants to claim for the referral consult they must complete a claim form.
A referral to a credentialed nurse must be managed by the practice.
Please notify the credentialed nurse that a referral has been made.
Claims
A claim form should be completed for mental health consults by GPs, NPs or credentialed nurses.
Claims will be deducted from the practice funding allocation.
Credentialed Mental Health Nurse
Credentialed nurse referrals are managed by the practice.
The GP or NP completes a referral – on the Referral Details tab in the Referrer Type field select Credentialed Nurse
The GP or NP notifies the credentialed nurse
The credentialed nurse takes up the referral and sees the patient
The credentialed nurse completes a claim form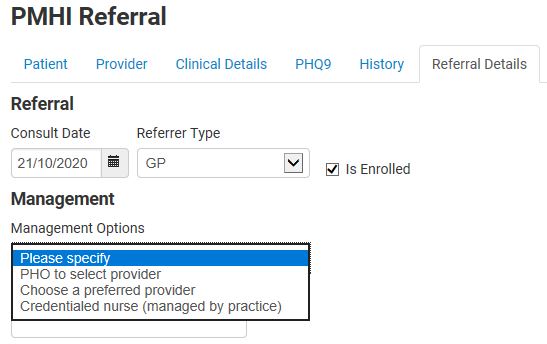 Funding Allocations – Coming Soon
View funding allocations – go to Allocations in top menu